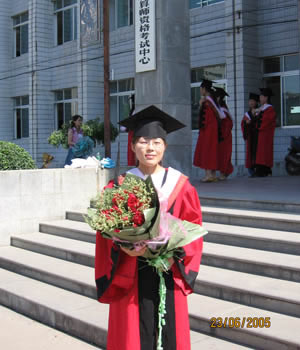 给周先生的信
Thank you again for your help and thank you for your time to read my letter!
——刘锦锋
Dear uncle and aunt:
Can you remeber the girl who have said she can't open the patients' thorax meeting about 3 years ago?
I am Liu Jin-feng ,one of the students you have helped . I am very glad to have this chance to write to you!
Firstly I want to say "thank you" for the help from you these years. With your help, I have finished my 5-year study in Xi'an Jiao Tong University, and graduated in this July .In the last six years, Hui Hua Fund have helped me very much, not only about money ,especially your spirit has inspirited me to study hard, to do my best to conquer the difficulties in life.
During the time of undergraduaton,I have paid most of my attention on study,and have gained high scores and gained the scholarship every academic year.In my spare time,I have taken part in many campaigns and done some part-time jobs.
And now,I continue my study in the medical college of Xi'an Jiao Tong University for my degree of master.I am major in infectious diseases, especially viral hepatitis.And now my younger sister has got a work, so the life is much better for my family. My parents have wanted to thank you to the teeth.
If having the chance ,I want to continue my study for the degree of doctor and do my best to gain the chance to advance my study overseas.Because I like my specialty very much and want to do something in this field,so from now on I will work much harder for my dream.I thike my dream will come true if only I don't give up.
Thank you again for your help and thank you for your time to read my letter! Give my best wishes to my aunt!
Happy mid-autumn day!
yours, Liu Jin-feng
[返回学生书信页首]